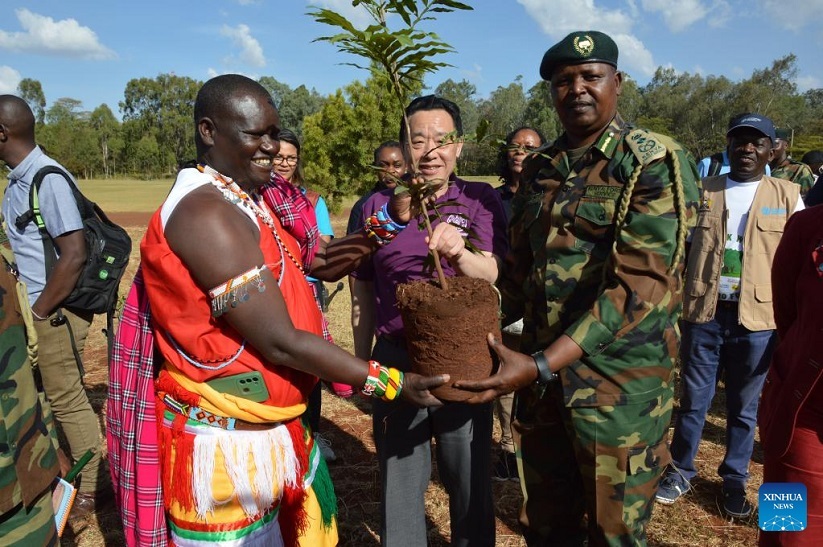 Food and Agriculture Organization of the United Nations (FAO) Director-General Qu Dongyu said Kenya should harness indigenous knowledge in its quest for sustainable forest management.
Speaking Sunday evening during a tour of Karura forest on the outskirts of Nairobi, the Kenyan capital, Qu stressed that combining science and indigenous knowledge will strengthen the country's efforts to protect forests and other ecosystems that sustain livelihoods.
"The management of forests requires a multi-stakeholder approach where local communities are included and are allowed to share their knowledge in the management process," Qu said as he launched drones that are earmarked for promoting forest conservation in Kenya.
He noted that the restoration of forests will not only boost climate resilience at the grassroots but also revitalize the sustainability agenda in the East African nation.
Qu commended Kenya for its role in mitigating climate change through the restoration of its indigenous forests while establishing woodlots to increase the tree cover. He observed that the approach resonates with the FAO strategic framework that advocates for land and nature-based solutions to address the triple crisis of climate change, biodiversity loss, and environmental degradation.
Qu added that urban forests and the development of green spaces play an important role in the implementation of the New Urban Agenda and the achievement of the Sustainable Development Goals (SDGs), in particular, SDG 11, which focuses on making cities safe, resilient, and sustainable.
Ephantus Kimotho, the principal secretary with the State Department of Forestry in the Ministry of Environment, Climate Change and Forestry, said Kenya, which is a partner in the Green Cities Regional Action Programme for Africa, has commenced the establishment of green spaces in urban centers.
Kimotho added that the green cities program is already picking up in Nairobi, Mombasa and Kisumu, which are located in the coastal region and western part of the country, respectively.
The two long-range drones valued at 113,380 U.S. dollars will be used in the surveillance of forests, provide real-time information and data, and inform prompt actions aimed at conserving the vital ecosystem.