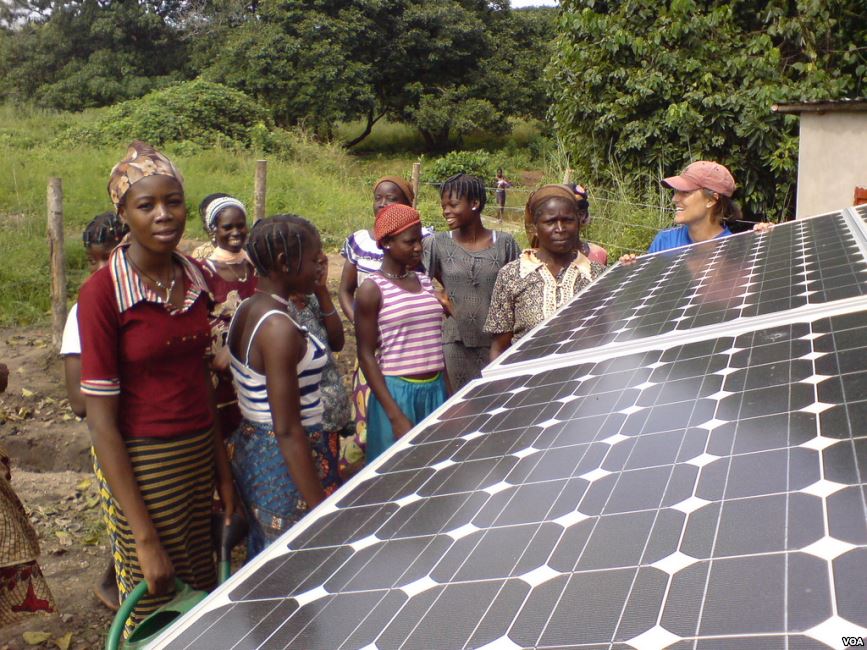 By Ajobiewe Tolulope
Renewable energy comes with resources which are naturally replenished on a human timescale such as sunlight, wind, rain, tides, waves and geothermal heat.
It is now being seen by many people around the world as a cost-effective development solution, as a matter of fact, a report recently released by International Development Organization, Oxfam, argues that renewable energy source is in fact a more affordable energy source than coal for poor people in developing countries around the world. Therefore, in a bid to create a cleaner, safer, and healthier energy future, it's time to choose renewables first.
This also reminds one of Arnold Schwarzenegger who posited that "the future is green energy, sustainability and renewable energy."  In another word, Al Gore in the same school of thought explained that the cost of energy will come down when a transition is made to renewable energy.
 "Our energy choices have direct impacts on our health, our environment and our economy".  Nigeria is a signatory to the Kyoto protocol and rectified other conventions relating to energy issues globally.  The intervention for sustainable renewable energy in Nigeria include: targeting electricity generation (Only 40 percent of Nigerians have access to electricity (EIA, 2007), Rehabilitate – Operate – and Transfer (ROT) targeted at Afam and Sapele power stations, Independent Power Plants (IPP) and Establishing quantity and price.
Nigeria also has a "Renewable Energy Master Plan (REMP)", which seeks to increase the supply of renewable electricity from 13% of total electricity generation in 2015 to 23% in 2025 and 36% by 2030.
To attain this feat, several foreign investments have been made in the renewable energy sub-sector of the energy sector. For example, A Korean firm, HQMC Korea Company Ltd, signed a memorandum of understanding with the Federal Government to invest up to US$30 billion to build a 10,000MW solar power plant in Nigeria over several years.
Apart from this effort by the federal government of Nigeria, some states have made renewable energy a major  developmental project being embarked upon currently while others are still in the pipeline. In Jigawa, the state government has signed an MoU with NOVA Scotia Power Development Limited for the development of a NGN34 billion, 50MW solar power project in the state.
Delta State also joined the train when it entered into an agreement with Canada's Sky Power to invest US$5bn in developing a 3000MW solar- powered electricity facility. 3,050MW Mambilla Hydro Power Plant Project, Taraba State, 360MW Gurara II Hydro Power Plant Project, Niger State, 38MW Dadinkowa Hydro Power Plant Project, Gombe State, 40MW Itisi Hydro power Plant Project, Kaduna State,  and 700MW Zungeru Hydro, Niger State.
Based on the REMP, renewable electricity would account for 10% of Nigeria's total energy consumption by 2025. However, presently, Nigeria has the installed capacity to generate 2100MW from hydro, which is the only renewable energy source supplying the commercial grid. Hydropower represents 20.9% of Nigeria's power generation, as at January 2011 (Data from Trading Economics).
It is expedient to state at this point that as of December 2013, the total installed or nameplate capacity of the power plants in Nigeria was 6,953mw (i.e. hydro-electric and the thermal/fossil fuel plants). The available capacity was 4,598mw and the actual average generation was 3,800 MW (2013 Year in Review, presidential task force on power pg. 16).
Exactly a year later, there was yet another report that puts the total installed capacity of the power plants to be 7,445mw, with just 4,949mw as its available capacity (2014 Year in Review, presidential task force on power pg. 16).  Although the presidential task force on power's peak demand forecast is 12,800mw (April 2015).
Legacy assets currently have a total of 1,310MW installed renewable energy generation. They include, Hydro-power which has 1,300MW installed capacity (Kainji Hydropower Station with eight generating units, Jebba Hydro Power Station with six generating units and Shiroro Hydro Power Station which has four generating units) and Wind which has installed 10MW capacity (pilot).
The 10MW Wind Farm is ready for commissioning and for concession With the new investments and projects in the pipeline, this would bring the total renewable energy installed capacity to 21,648 MW.
The past administration, under President Goodluck Jonathan had an agenda; with a vision of a Nigeria where 30,000MW will be generated from renewable sources in the next one decade.  A typical Nigerian like myself would consider that a fairy tale considering that in the last sixteen years close to $20billion has been expended on electricity supply in Nigeria, yet all the structures of power supply and distribution are still tinkering.
Nonetheless, President Johnathan also established a "Light up Rural Nigeria Project" which aims to electrify rural areas with renewable energy. The REMP details specific areas of investment for prospective investors, namely:
Small-hydro: 600 MW in 2015 and 2, 000 MW by 2025;
Solar PV: 500 MW by 2025;
Biomass-based power plants: 50 MW in 2015 and 400 MW by 2025;
Wind: 40 MW for wind energy by 2025;
Despite these strides, more work still need to be done, not forgetting that the current cost of renewable energy technology is also far in excess of traditional fossil fuel generation. This is because it is a new technology and as such has extremely large capital cost. Therefore, making this transition will unarguably be a difficult task and decision owing to the fact that fossil fuel is, unlike many renewable sources of energy, relatively less expensive to produce, and that is perhaps the reason why it is in higher demand as it tend to cost less.
A recent Bloomberg report estimated that renewable energy investments in sub-Saharan Africa would reach the $5.9 billion mark in 2014, and grow to $7.7 billion in 2016. It however noted that the investments are predominantly expected from South Africa, Kenya and Ethiopia, leaving Nigeria out of the top three countries investors seek out for renewable energy investments.