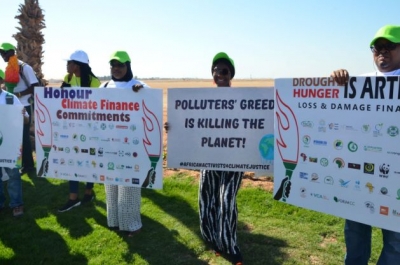 Sharm El-Sheikh: Climate Finance for the transformation of agriculture and food systems in some of the most vulnerable communities is set to find a financial and non-financial boost from the 27th Conference of Parties of the United Nations Framework Convention currently happening in Egypt.
In a new initiative launched at COP27 during the first week of talks, the UN Food Agency, the Food and Agriculture Organization (FAO), says the transformation of agrifood systems will deliver triple wins for people, climate action and nature.
A statement from the agency states that "the initiative will be supported by countries through its multi-stakeholder partnerships that will ensure food systems are reinforced through climate policies that contribute to concrete actions in support of adaptation to maintain a 1.5-degree pathway for food and economic security."
COP27 President H.E. Sameh Shoukry said: "The impact of climate change is disproportionately impacting vulnerable communities worldwide. To address this imbalance, we need to develop sustainable farming and food systems and meet the urgent needs of food-importing developing countries."
Technically known as the Food and Agriculture for Sustainable Transformation (FAST), FAO will champion the mobilization of state and non-state actors to unlock finance flows for increasing climate resilience and implementing urgently needed transformation across agrifood systems.
FAO's Deputy Director General Maria Helena Semedo stated that "bold, transformative actions are needed to boost Agrifood system transformation, support countries and ensure that resources reach food producers across the value chain."
Meanwhile, the UNFCCC Executive Secretary, Mr Simon Stiell, added that "We need to undertake a thorough overhaul of our food systems, which is another way of saying our relationship with the natural world. There is only one way to achieve this. It can be summarized in one single world: implementation."
COP27 has been strategically named as the African COP – the COP for the Implementation of the 2015 Paris Agreement in which countries that have ratified the agreement committed themselves to not only provide the Finances but also take differentiated Nationally Determined Contributions aimed at limiting global temperature rise to 1.5 degrees Celsius by the end of this century.
However, the latest Intergovernmental Panel on Climate Change (IPCC) report says full implementation of the total sums of the Nationally Determined Contributions will still make the World miss the targeted 1.5 degrees Celsius. This triggered pleas for raising national ambitions and complete transitions in energy and agrifood systems, amongst others.
Opening COP27, United Nations Secretary-General Antonio Guterres made it clear that the African Continent, considered the most vulnerable and most affected by climate change, should be insulated by a continent-wide early warning system over the next five years to improve its adaptive capacity in all sectors.
Against this backdrop, some of the non-state actors participating in the Conference of Parties, including the Pan African Climate Justice Alliance (PACJA), made it clear towards the end of the first week of negotiations that enough talking has been done about ramping up Climate Finance for the global South.
"Our aspirations for the recognition of Africa as the region with special needs and circumstances at this COP has dropped again as it happened in Glasgow at the agenda stage; because Africa has no power to decide what agenda will or will not be there on the COP table." Dr Mithika Mwenda, the Executive Director of PACJA, stated during the global March for Climate Justice on Saturday.
According to Dr Mwenda, "even the issue of loss and damage, which gained admission into the COP27 agenda early this week, has been deferred to 2024 for a decision to be taken on it. And for us, this is already a disappointment."
The Civil Society fraternity from the global North boycotted the march citing Egyptian Police brutality and the scorching African heat for their boycott.
The concept of transforming agrifood systems entails supporting the acceleration of the UN 2030 Agenda by transitioning towards more efficient, inclusive, resilient, and sustainable agri-food systems for better production, nutrition, a better environment, and a better life.
As COP27 talks enter the critical stage for government Ministers to join in, the Pan African Climate Justice Alliance, the loudest civil microphone carrying holding the hopes and frustrations of the African farmer, repeatedly made it clear that access to Finance should not be handled with kid's gloves.
As COP27 negotiating texts are being drafted, it is now known that 38 million people are facing severe starvation sparked by droughts and floods across Africa this year alone. 600 million others are deeply entrenched in energy poverty.
According to FAO, FAST will focus on three priorities for urgent actions on Climate Change: emboldening access to Finance through enhancing countries' capacities to identify and increase access to climate finance and investment from the different pools.
Second, enhancing knowledge and capacity through the provision of the necessary analyses, developing voluntary guidelines and supporting capacity development of countries; and thirdly; policy Support and Dialogue to ensure agrifood systems are fully embedded in climate change policies, such as Nationally Determined Contributions (NDC), National Adaptation Plans (NAP) or Long-term Low Emissions and Development Strategies (LT-LEDS).
Under the initiative, FAO committed to, in collaboration with other UN agencies, play the role of a neutral facilitator, providing objectivity, independence and credibility that are prerequisites for the initiative's success.
Culled from PAMACC