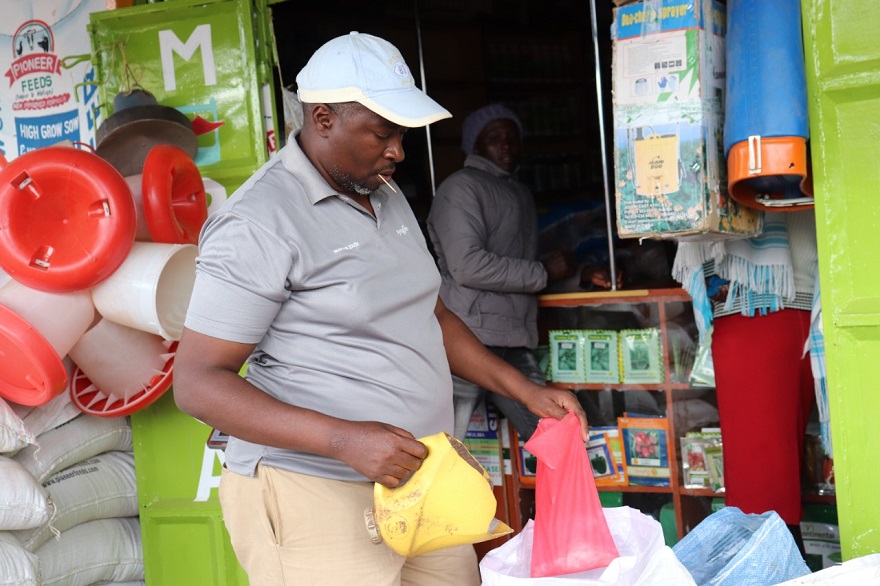 On a cool Wednesday evening at Kang'aru village, in Kenya's Kirinyaga County, situated in the central region of the country, John Waweru steps into his tomato plantation to check on the progress of the crop.
The 35-year-old father of three has been farming for the past eighteen years and says that his has been a journey that has made him understand the dos and don'ts of tomato farming.
"One of the most important things that a farmer should understand and never make a mistake about, in order to realize maximum yields is the type of fertilizer to use at any given time," Waweru says.
As such, Waweru gets his fertilizer from an agrovet shop at the nearby Kagio market, less than a kilometer from his farm.
The agrovet owner, Joshua Murimi says that he has been in the agro-vet business for the past ten years and at first used to struggle with supply, ending up losing customers who could not find fertilizer in his shop.
"Accessing fertilizer from suppliers who would get it from the neighboring Mwea town was an issue and many farmers would come to the shop and miss it, having to wait for even three days before they could get it.
"That was not good for business because you could end up losing such a customer. But since I started working with iProcure, they have taken up the headache of sourcing and availing the fertilizer in time," he says.
iProcure is a company that is working to provide a complete procurement and distribution solution for farm supply to partners that want to streamline their distribution and improve efficiency and customer service. It stepped in to fill the gap, ensuring a steady supply of good quality fertilizer to farmers in their areas of operation.
The company works with more than 5,000 agrovets in towns and shopping centers across the country, who in turn serve over 1,000,000 farmers. They also make sure that the fertilizer is available on time and is of good quality, therefore doing away with middlemen and brokers who have long been frustrating both the dealers and the farmers.
"Now we have plenty of fertilizer and the supply is steady," says Murimi. "They deliver the product at the right time and their quality is uncompromised. And those are the most important things in this business – getting the right fertilizer at the right time and in the right quality."
For Waweru, he says that in his seven-acre tomato farm, he needs a cumulative 84 bags of fertilizer from planting to harvest.
"That is not an amount of fertilizer you need to fail in its supply because the tomatoes will also fail you. It is very serious and should be that when you need it, you have it. Also, it should be locally available to cut down on transport costs because this is agribusiness and I need to realize profits," he says.
This is what has made Waweru one of the best customers that Murimi has, because he will buy in bulk, and is assured of a supply of good quality fertilizer.
Murimi says that most farmers in Mwea and around Kagio grow tomatoes, French beans, capsicum, watermelon, and butternut. And, he says, those crops require fertilizer rich in phosphorus, nitrogen, and boron and zinc because of the tomatoes. They get all these from iProcure supported outlets.
According to Niraj Varia, CEO of iProcure, the company has also helped get rid of middlemen in agricultural input supply, making it more affordable and effective to the farmer.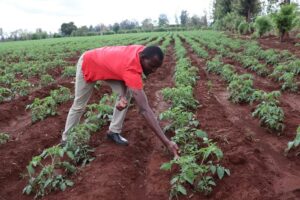 "Once iProcure takes possession of a product from a manufacturer, it does not go to any other hands until it reaches the agro-dealer, so there is no opportunity for third parties to interfere with the products," he says.
Varia also points out that the company ensures good quality products reach agro-dealers and finally the farmers, by conducting daily stock checks.
"iProcure's team conducts daily stock checks at its warehouses which include a review of all packaging to ensure there are no breakages. In some cases, iProcure has stopped purchasing certain products from certain suppliers who could not guarantee a high standard of packaging and quality," Varia asserts.
Lastly, he says, the company only distributes genuine products and abides to Kenyan and international quality standards. He acknowledges that for them to offer these products and services to farmers, it has taken huge investment. "We have received support to raise capital from various partners, one being USAID's Kenya Investment Mechanism, who helped us enhance our investment readiness through investment structuring, investor sourcing, and due diligence," says Varia.
For Murimi, the agro-dealer, he says that he has achieved peace of mind because he now knows that no matter the day or season, he will have a steady supply of the fertilizer delivered.