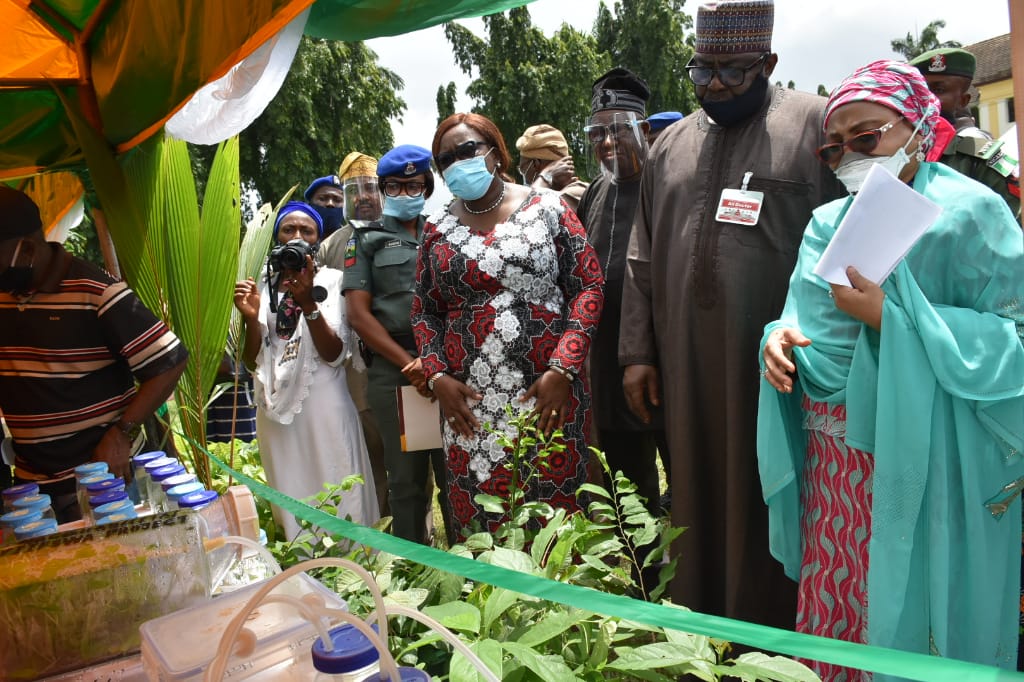 NAN
Nigeria's Federal Ministry of Agriculture on Wednesday began distribution of farm inputs to farmers in Oyo State, South-West zone, to ensure food security and economic growth amid the COVID-19 pandemic.
The inputs include 19,672kg kenaf foundation seeds, foundation seeds for certified yam production and over 18,000kg of organic insecticides to combat army worm infestation on maize.
The inputs also include 66,000 cocoa seedlings.
The Minister of State for Agriculture, Mr Mustapha Shehuri, said at the occasion in Ibadan that the seeds were being given to the farmers free, while other inputs were given at 75 per cent subsidy.
He said that it was the third in the series of the distribution of the ministry's palliative to farmers nationwide.
Shehuri said that 35 per cent of the inputs were targeted at women farmers in line with the targets set in the national gender plan and policies aimed at ensuring increased opportunities for women.
"The restriction of movements negatively impacted on food supply chains, incomes and livelihoods in the country.
"Since smallholders are the most vulnerable, it becomes imperative for the government to support them with the much-needed inputs, especially seeds – the most important factor in influencing farmers' yields.
"Through this effort and other complementary interventions by stakeholders, the government hopes to increase the resilience of farmers and the national food systems in general.
"I, therefore, urge the beneficiaries to make judicious use of the inputs to produce food for the nation, while calling on stakeholders to provide similar support for farmers to defeat COVID-19 pandemic and become self-sufficient," he said.
Gov. Seyi Makinde of Oyo State requested that the state be considered under the APPEAL and World Bank CARES projects.
Makinde was represented at the event by the Secretary to the state government, Mrs Olubanwo Adeosun.
The governor urged that the Ikore Gorge Dam be conceded to the state to enable it to maximally utilise it for the development of agribusiness.
"We also request for the revamping and reconstruction of several federal roads that link the agricultural community with the markets and urban areas.
"We anticipate that our collective efforts will provoke game-changing ideas and action plans that would set the pace for agricultural transformation in Nigeria and Africa at large," he said.
The President of the Cocoa Farmers Association of Nigeria, Mr Adeola Adeoke, thanked the Federal Government for the gesture.
He, however, appealed to the three tiers of government to provide good roads, lands and financial support to farmers.
"The only solution to conquer this pandemic is to engineer our agricultural sector by giving full support to farmers.
"We still appeal for more insecticides, pesticides, fertiliser and irrigation systems," he said.