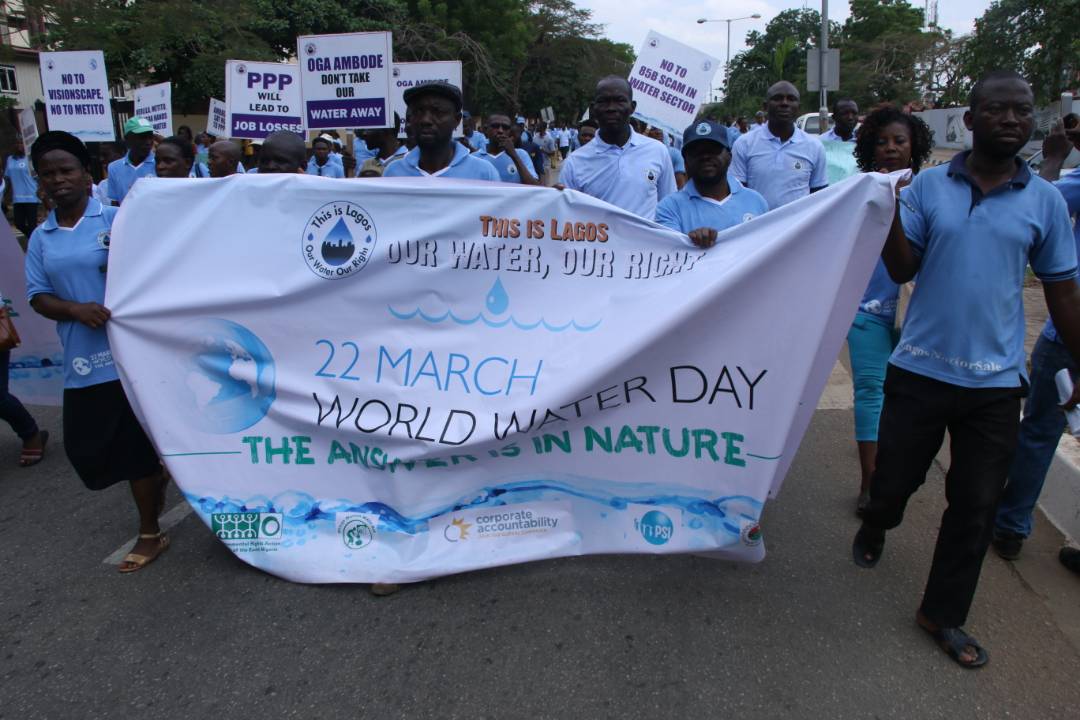 By Ugonma Cokey
On the occasion of global commemoration of World Water Day 2018, right activists have again reiterated their rejection of the  public-private partnership (PPP) model of privatization by the Lagos State government in Southwest Nigeria.
The group called on the state government to halt concession of Lagos Water infrastructure to transnational corporations like Veolia, Metro and Abengoa which it described as "transnational corporations with track record in infractions and corruption"
It also called on the state to remove the remaining provisions in the new Lagos Environment Law that opens the door for privatization in the PPP form or any other.
The group urged the state to "fully uphold the human right to water as an obligation of the government representing the people, integrate broad public participation including that of women in developing plans to achieve universal access to clean water"
"Reject contracts designed by or involving  the IFC which operates to maximize profit, build the political will to prioritize water for the people by investing in the water infrastructure necessary to provide universal water access, which will create jobs, improve public health  and invigorate the Lagos economy" it advised.
The group representing different civil society groups at the end of their rally from one end of Ikeja to the other handed down a letter to the governor of the state .
The letter to the governor was received  by Lagos State governor Senior Special Adviser on Community Mobilization, Abdulkareem Olaseun
It had last year proposed a solution to the government in a document titled "Lagos Water Crisis: Alternative Roadmap for Water Sector.
The Coalition is made up of the Environmental Rights Action-Friends of the Earth Nigeria, ERA, Joint Action Front, Child Health Organisation and the Almagamated Union of Public Corporations, Civil Society, Technical and Recreational Services Employees, Labour  health and human right development Centre, Climate Aid, Centre for Dignity,  and Friends of Africa women, Water, Sanitation and Hygiene Network, Committee for the Defence on Human Rights and Friends of the environment
The groups also called for increase in budgetary allocation as well as institution of Water Trust Fund..
World Water Day,marked on 22 March every year, focuses attention on the importance of water. The theme for World Water Day 2018 is 'Nature for Water' – exploring nature-based solutions to the water challenges we face in the 21st century.