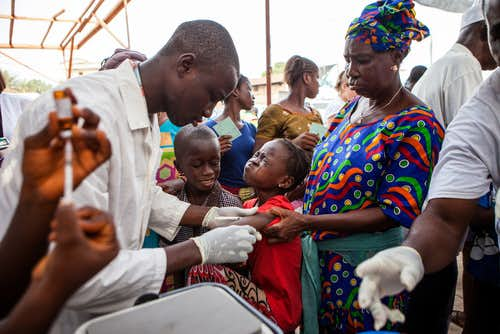 By Elfredah Kevin-Alerechi
The World Health Organization (WHO) fact sheets  reveal that in 2017, there were 110,000 measles deaths globally, mostly among children under the age of five.
The regional reports by WHO as at October 10, 2019 recorded more than 4,000 measles cases while the African Region has the highest recorded cases with over 180,000 cases.
In the year 2018, the South-East Region had the highest WHO-recorded measles cases with over 158,000  reported cases.
African countries have made tremendous efforts in the fight against measles through immunization yet the disease is one of the causes of death among children under five.
In October 2019, the Nigeria Centre for Disease Control (NCDC)  recorded a total of  920  suspected measles cases with no laboratory confirmation and no death recorded.
A five-year review of burden measles in Nigeria published in a Pan Africa Journal, recommended improvement of routine immunization and strengthen a regional laboratories' diagnostic capacities for the successful eradication of measles.
The Rivers State Ministry of Health will take the second dose of measles vaccine to the twenty-three Local Government Areas including remote villages.
"The second dose of the measles vaccine will start on 14 November to 18 November 2019",  Dr. ISAAC OPURUM, Director Community Health Services, Rivers Primary health care board said.
Health workers would go round the streets and remote villages to immunize children from 15-months-23 months.
" We are targeting 15months to 23-months but that does not mean we can not give to children of 9months",  the Rivers State Immunization Officer, URANG JOSEPH added.
Measles is a disease mostly believed by all to affects all age groups but WHO argues that children under age 5 and adults under age 30 have serious complications.
2019 WHO REGIONAL REPORTED MEASLES CASES, as at 10 Oct 2019
In October 2018, the Ghana Health Service (GHS) in collaboration with the Ministry of Health and Health Partners launched a six-day national Measles-Rubella vaccination and Vitamin A supplement campaign to improve the general health and survival of Ghanaian children, under the theme, "Measles-Rubella Kills; Vaccinate Your Child Now for Good Life".
Ghanaians embarked the campaign due to increased cases of measles records between January to August.
"In 2017; 19 cases of Measles and Rubella were recorded but as from January to August 2018, 29 cases have been recorded hence the need to intensify campaign on the disease", said Dr. George Bonsu, Programme Manager, Expanded Programme on Immunisation (EPI).
In Kenya, a total of 404 measles outbreaks were reported from January 2018 to Mid-September 2018. Among these cases, 20 (5.0%) were laboratory-confirmed and 1 death. The cases were reported in five counties; Mandera, Wajir, Garissa, Nairobi, and Kitui.
The Republic of Congo seems to have been badly affected, measles outbreak has become deadlier than the Ebola, UNICEF said.
Just like other health organizations, UNICEF has always been partnering with other countries including Nigeria to sensitize the need for immunization.
Since January 2019, UNICEF recorded more than 4,000 deaths in Congo.
Just like most vaccines, measles immunization is relatively free worldwide but except for few private hospitals with outrage payment.
Dr. URANG JOSEPH, Rivers State Immunization officer in his lecture with Journalists and traditional and religious leaders at the Primary Healthcare Management Board in Port Harcourt the capital city of Rivers State, stresses that the immunization is free in all hospitals including the private hospitals in Rivers State.
"If you go to any private hospital and you are charged to pay for immunization in Rivers State, call or report that hospital and we will stop givng them vaccines".
URANG added, " We distribute vaccines to all the hospitals Free", reiterating that Nigeria has a plan to eliminate measles in 2023.
It is important that all Muslims seize this opportunity to take advantage of the free vaccine, said Alhaji, NASIR AWHELEBE UHOR, Vice President General, Rivers State Islamic Affairs.
This NASIR said is a golden opportunity for all Muslims brother.
"Muslims should convince other members of the folks on the benefit of the immunization so that we can eliminate these disease".
The Dean of Ecumenical Christian Unity Church Rivers State, Rev EKEYI FELIX encourages all church leaders to open their churches and allow those within the age bracket to benefit.
" We know many people believe in Faith healing and that is okay, but we ask them to go to prayer and also go to the hospital" and " we had cases where people die in prayer houses also". Rev Felix added.
  Why we must take immunization
Centre for Disease Control notes that Measles vaccine is given later than some other childhood vaccines because antibodies transferred from the mother to the baby can provide some protection from disease and make the Measles, mumps, and rubella (MMR) vaccine less effective until about 1 year of age
Centre for Disease Control   also recommended that Students at post-high school educational institutions who do not have presumptive evidence of immunity need two doses of MMR vaccine, separated by at least 28 days as well as  Adults who do not have presumptive evidence of immunity should get at least one dose of MMR vaccine.
In Urmia, the republic of Iran, an investigation related to the effectiveness of mass vaccination reveals that a total of 625 tested by comparing the mean of the level of antimeasles antibodies and the prevalence of antibody seropositivity before and after vaccination.
The result shows that before vaccination, 30.9% of the subjects had negative antibody titres and 16.3% had borderline titres. After vaccination, only 13.8% remained negative and 18.9% had borderline titres.
The need to intensify immunization became necessary to interrupt the transmission of measles, rubella, and polio that WHO decided to immunize more than 18million in Uganda.
According to the statement distributed by WHO, the Immunization is important because of the declining trend in routine immunization coverage in the country.
It is, therefore, necessary that we give utmost attention to immunization to eliminate all kinds of diseases like polio, measles, yellow fever, meningitis among others in Africa.