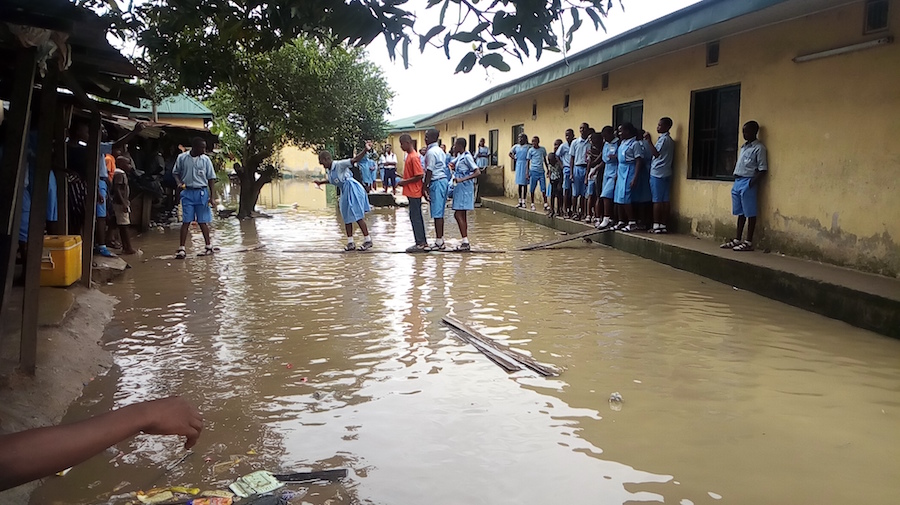 By Elfredah Kevin-Alerechi
It was on a Monday afternoon, crossing the two-sided road to the gate, seeing students with white and purple uniform, and some striped navy blue top and plain navy blue skirt playing by the side of the school compound.
It's break time, one would be wondering why the students are playing at the side of the school premises rather than the field. Flood!
Unlike other Mondays, the students of Community Secondary School, RumuApara in Obio/Akpor Local Government Area of Rivers State suffer setback due to the flood, which obstructed normal academic lectures.
Obio/Akpor Local Government Area is one of the rural-urban in Rivers State, hosting some oil multinationals, as well as other high level trades and business going on.
"There is water in our classrooms, we learn inside the pool of water, but we swept it," said a Junior Secondary School (JSS) 1 student.
Looking at the level of the flood in the classroom blocks, you will imagine how they swept and learnt inside the flooded classrooms.
The innocent 4 students playing together kept their hands on each shoulders laughing said, "don't go there the crowd is much, look they are crossing the bridge."
 When I looked from afar saw crowd mix with junior and secondary school boys and girls on queue taking turn to cross the improvised wooden slab bridge, taking directives from male and female teachers on how to cross the wooden slab.
The students need to climb 2-3 slabs before getting to their classrooms, that, still was not enough as some has to put their legs with their white socks and sandals in the flooded dirty water mixed with mud, earthworm and spirogyra.
"They pushed us into the water when struggling to cross on queue," said another junior
female student.
"I am scared of talking, I am afraid to talk," said another student in mufti, covering her face with her hands, then, I knew I had to convince her to speak, that her safety is in my hands, and promised not to disclose her identity.
Teachers and students in public schools in Nigeria are not given express permission to speak to the Press on any issue, one has to visit either the Universal Basic Education Board or the Senior Secondary Schools Board not the Ministry of Education.
This is applicable to all public service holders, which according to them, the law permits only those in authority to speak on any matter.
 "We sometimes sit on the floor to learn," another student said.
UNICEF, in her report states that, primary education in Nigeria is officially free and compulsory, yet about 10.5 million of the country's children aged 5-14 years are not in school. Only 61 percent of 6-11 years-old regularly attend primary school and only 35.6 percent of children aged 36-59 months receive early childhood education
"We suffer a lot with the students here, sometimes I wish the school is shut down till when the flood is dried up," said a teacher who pleaded anonymity.
Another junior teacher said, we suffer more than the senior teachers. Our staff offices are  fllooded", pointing the water.
His words, "This is not the first time the flood is coming. It came first in 2017, 2018 and
2019, but it was serious in 2017 and 2019″, he said.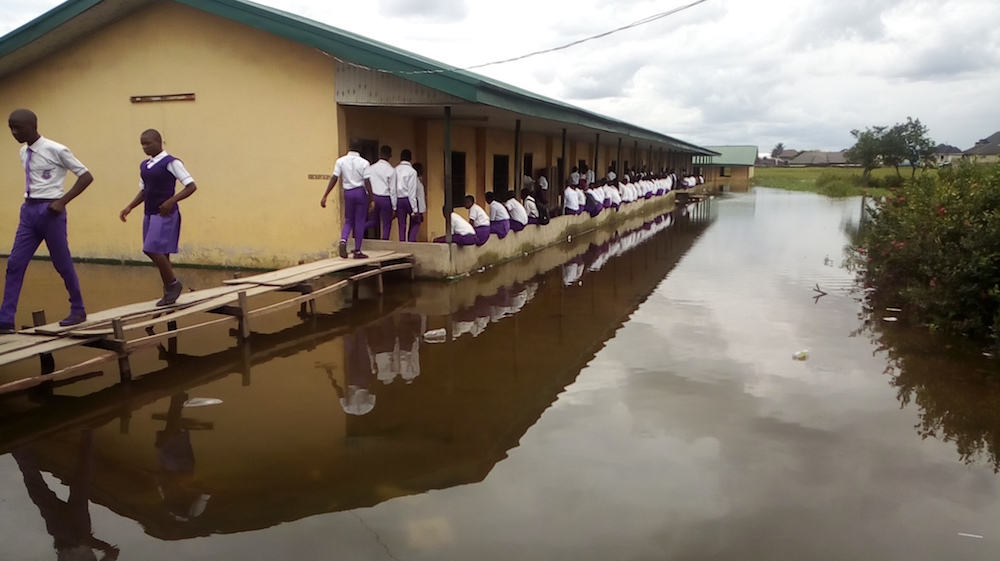 For the junior teacher, complaints have been made, people have taken pictures and video clip of the flood yet nothing has been done he added.
However, ClimateReporters cited a waste tank company attributed to be deployed by the State Ministry to suck out the flood from the school premises.
The school is located on wetland, to worsen the situation the adjoining areas are now urbanized, the water now empties into the school, said, Dr. Vincent WeIIi, Acting Director, Institute of Natural Resources, Environment and sustainable development(INRES), of the University of Port Harcourt
Dr. Vincent Weli, recommended relocation as a lasting solution to flood in the school.