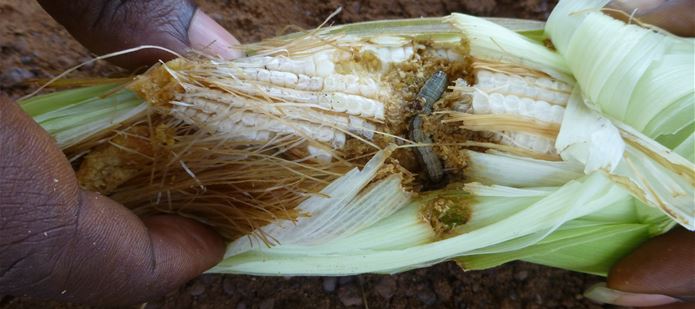 PAMACC News
After two days of intensive deliberations on the best possible ways to tackle the menace of fall armyworm in Africa, representatives of the agriculture ministries from central and west African countries have been urged to come up with proposals on how an integrated approach to winning the war against fall armyworm in their respective countries can be achieved.
This resolution heralded today's closing ceremony at the high-level meeting on controlling fall armyworm in central and west African states which began yesterday in Yaoundé, the Cameroonian capital.
Béninese minister for Agriculture, Livestock and Fishery, Hon. Gaston Cossi Dossouhoui who presided over the closing ceremony commended the organisers, notably the African Development Bank (AfDB) and the Institute for Tropical Agriculture (IITA), for the rare opportunity given to central and west African states to brainstorm together and come up with proposals for possible funding and collaboration.
Hon Dossouhoui urged the respective agriculture ministries from the two participating sub-regions to come up, within three months, with bankable proposals that can facilitate the implementation of the solutions proffered at the high-level meeting, taking into consideration, their respective national contexts and circumstances.
A cocktail of solutions
Some of the solutions proffered against the rampaging fall armyworm include awareness creation on holistic management of fall armyworm; training of stakeholders on the identification of fall armyworm; synchronising cropping calendar and timely planting; and broad-based dissemination of information via technologies (sms, apps, etc).
The meeting also identified innovative solutions such as use of seeds, oil and leaf extracts of neem tree, (Neem oil emulsion at 5-20ml per plant); mixture of ash and sand on the whorl; use of botanical and synthetic pesticides; mixture of tithonia and piper emulsions; mixture of tobacco leaves and piper; push-pull technology; and the use of pheromone traps to monitoring and detection.
In addition to these, Dr. Winfred Hammond, a food security expert and resource person from Ghana, urged the member-states to also develop tools that are compatible with effective Integrated Pest Management (IPM) on fall armyworm.
"Tools such as seed treatment; time of planting; use of pheromones; scouting for eggs and neonates; mechanically damaging eggs and neonates; bio-rationals and bio-control agents are effective in these efforts," Dr. Hammond said.
Technologies against fall armyworm
The consensus of the meeting was a regional approach that emphasizes Integrated Pest and Disease Management (IPDM) required to contain fall armyworm.
Immediate recommendations include awareness raising campaigns on fall armyworm symptoms, early detection and control, including beneficial agronomic practices; national preparation and communication of a list of recommended, regulated pesticides and bio pesticides and their appropriate application methods.
Participants also agreed that work should start immediately to assess preferred crop varieties for resistance or tolerance to fall armyworm, introduce classical biological control agents from the Americas.
A conducive policy environment should promote lower risk control options through short-term subsidies and rapid assessment and registration of bio pesticides and biological control products, they said.
According to Jean-Baptiste Bahama of the Food and Agriculture Organisation (FAO), the operationalisation of National Task Force on fall armyworm is key to efficiently coordinating preparedness and response through contingency planning.
"FAO has responded to the fall armyworm situation in Africa by developing tools, resources, installing capacity for fall armyworm early warning system (FAMEWS), and developing and coordinating pesticide policies at national, regional and global levels" Bahama said.
"The time is now to invest in a sustainable, effective response to FAW in Africa. The only thing missing are the resources to scale-up and scale-out this important work," he added. To AfDB's country Manager for Cameroon, Solomane Kone and Chrys Akem, TAAT Programme Coordinator at the International Institute for Tropical Agriculture (IITA), this is where the AfDB comes in through the Technologies for African Agricultural Transformation (TAAT) programme.
TAAT, according to Kone, "takes proven agricultural technologies to scale in a commercially sustainable fashion through the establishment of a mechanism that facilitate partnerships and provide access to expertise required to design, implement and monitor progress of crop, animal, and aquaculture campaigns."
"It is in this light that we have established the TAAT fall armyworm compact which will create an enabling environment to effectively access and scale-up the adoption of an IPM-based fall armyworm management technologies and practices through public-private partnerships," Dr. Akem added