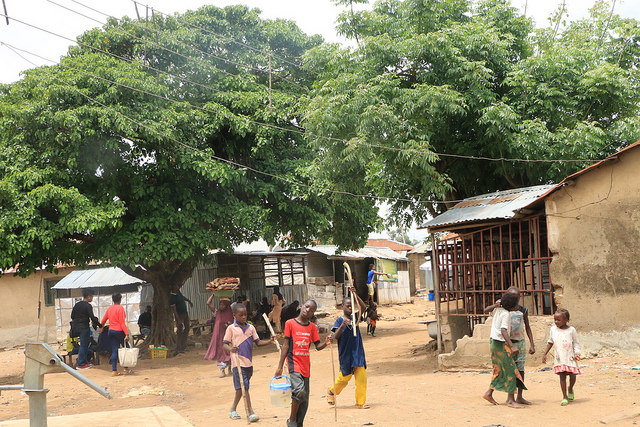 By Atayi Babs
Abuja, the capital city of Nigeria, located in the centre of the country within the Federal Capital Territory (FCT), is a planned city.
With a land area of 8,000 square kilometres and bounded on the north by Kaduna State, the west by Niger State, the east and southeast by Nasarawa State and the southwest by Kogi State, Abuja falls within latitudes 70 20′ North of the Equator and longitudes 60 45′ and 70 39′.
Abuja's natural endowments such as; its rolling hills, isolated highlands and other endearing features make it a delight. The savannah grassland of the North and the Middle Belt, the richness of the tropical rain forests of the south and an equable climate all combined to make the FCT a soil-rich agricultural haven.
At the 2006 census, the city of Abuja had a population of 776,298, making it one of the ten most populous cities in Nigeria. According to the United Nations, Abuja grew by 139.7% between 2000 and 2010, making it the fastest growing city in the world.
As of 2015, the city is still experiencing an annual growth of at least 35%, still retaining its position as the fastest-growing city on the African continent and one of the fastest-growing in the world.
Abuja has witnessed a huge influx of people into the city; the growth has led to the emergence of satellite towns, such as Karu, Kubwa, Gwagwalada, Bwari, Kuje which have all become Area Councils within the Federal Capital Administration.
The unofficial metropolitan area of Abuja has a population of well over three million, making it the fourth largest metropolitan area in Nigeria, surpassed only by Lagos, Kano and Ibadan. As at 2016, the metropolitan area of Abuja is estimated at 6 million persons, placing it behind only Lagos, as the most populous metro area.
The ever-increasing rate of development in the Abuja city centre led to the establishment of smaller settlements such as Lugbe, Gwarinpa, Karmo, Aleita, Jabi and several others which now forms the Abuja Municipal Area Council (AMAC).
One of the smaller settlements of interest today is the Iddo Sarki community which is in the Gui Ward of the Abuja Municipal Area.
Iddo Sarki, a sleepy community that borders the Nnamdi Azikiwe International Airport and the main campus of the University of Abuja, is classical example lack amidst plenty.
Despite being blessed with abundant natural resources and the much-sought-after proximity to the seat of power in Nigeria, residents of this community practically subsist in wanton lack of access to basic amenities. Amenities that are considered necessities of life in nearby settlements in the FCT are seen as privileges to be prayed for in Iddo Sarki.
Access to basic services and amenities such as roads, water, food, education, health care delivery system and energy, which determines the poverty index of any group of people, remains elusive to residents of Iddo Sarki even in 2017. This becomes more worrisome when one considers the fact that its barely 13 years to the 2030 target date to the eradication of poverty and all forms of inequality across the globe.
Iddo Sarki and the SDGs
There is no doubt that the challenge of eradicating poverty in all its forms and dimensions, including extreme poverty and inequality; and ensuring sustainable development is arguably the greatest challenge facing humankind.
Over the years, scholars, activists, politicians, development workers as well as local and international institutions have engaged with this challenge.  In September, 2000, at the largest ever gathering of Heads of States, the United Nations Millennium Declaration was adopted committing countries both rich and poor to do all they can to eradicate poverty, promote human dignity and equality and achieve peace, democracy and environmental stability.
They adopted the eight millennium development goals with targets to eradicate poverty, achieve universal primary education, promote gender equality, reduce child mortality, improve maternal health, combat HIV, malaria and other diseases, ensure environmental sustainability and develop a global partnership for development. As at the end date of 2015, there was a lot of progress but billions of citizens were still living in poverty and denied a life of dignity with rising inequality within and among countries.
A process was therefore put in place for a successor to the MDGs. In September, 2015, the Sustainable Development Goals (SDGS) was adopted to end poverty in our generation. The Sustainable Development Goals (SDGs) proposes a new global partnership requiring people, countries and participants in the global partnerships to play specific roles to achieve the SDGs.
The SDGs represent a resolve to, between 2015 and 2030 end poverty and hunger everywhere, to combat inequalities within and among countries; to build peaceful, just and inclusive societies; to protect human rights and promote gender equality and the empowerment of women and girls; and to ensure the lasting protection of the planet and its natural resources.
It is also a resolve to create conditions for sustainable, inclusive and sustained economic growth, shared prosperity and decent work for all, taking into account different levels of national development and capacities. How this global resolve which Nigeria is a signatory to, plays out in Iddo Sarki remains to be seen as lack, inequality and poverty appear to walk on all fours in this community.
Access to clean water and sanitation
Potable water is an essential commodity needed especially by man to survive and live a healthy life. However, accessing this commodity has become a daunting task in most parts of Nigeria as communities and even towns battle to get it for their daily needs.
It has been said that water availability, quality and quantity are closely linked with poverty. This is because the quality and quantity of water are central to agricultural productivity and, thus, hunger — particularly in subsistence farming which Abuja rural farmers engage in.
According to a study, such a situation may have negative impact on children and women who usually share the burden of water collection. In cases where children spend so much time every day looking for where to fetch water, they may not have the opportunity to attend school early.
There is no doubt that there is a great connection between water and sanitation. Where there is no potable water, healthy living is far-reached. Children who are suffering from water-related diseases may be unable to attend school or may be unproductive in their studies.
Water and sanitation are integral aspects of ensuring environmental sustainability hence its inclusion as Goal 6 of the Sustainable Development Goals (SDGs). The availability of water and sanitation influences health, education, gender issues and the economy.
Children are the most vulnerable to water-related diseases. Diarrhoea, caused by unclean water, is a leading cause of child mortality. Although mortality as a result of diarrhoea has declined in recent years, it remains the second leading cause of death for children under five (after pneumonia), accounting for one-fifth of child deaths said to be greater than that caused by AIDS, malaria and measles combined.
The above scenario clearly depicts Iddo Sarki.
To residents of Iddo Sarki, the quest for potable water and basic health care is better imagined as residents share the only sustainable source of drinking water, which is a nearby stream with their cattle. The other source of water in the community is a private borehole which usually comes at exorbitant rates and subject to the whims of the "Mairuwas" (local water vendors). The mairuwas have become indispensable in the community as the public borehole provided by the government is no longer functional.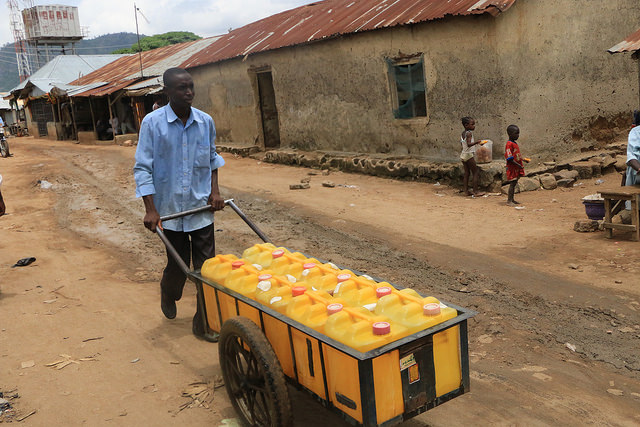 Due to the challenge, water vending business is quite booming in the community as residents depend on it for supply of fresh water. During rainy season, residents largely depend on rainfall for their water needs such that they willingly stay awake even in the middle of the night to fetch water.
In a crowded compound, tenants outwit one another just to place their buckets and basins in places designed for such purposes.
It was observed that at peak period, especially the dry season, the vendors who now see themselves as "the indispensables" even drag their feet when called upon to supply water. Majority of them who hardly understand English language even frown at people in the process.
Residents who do not have the capability to buy water have to go the Iddo Sarki stream whose water is usually very dirty. It was observed that when the water is fetched, it will take hours to settle but most times, people still use it like that.
"Our biggest challenge here is water," Alh. Bello Sarki III, the paramount ruler of the community said. "The well here dries up. The nearest to having water is a stream but it is the same stream that our cattle drink from. So if we don't go to the stream very early enough like 5am, we won't be able to access clean water," Bello said.
He explained further that, "we all know that it is not hygienic that our cattle drink from the same stream we also drink from same. So we are begging the government to make way for us to have access to clean and drinkable water, because water is life."
Interaction with the community indicated that aside from other water borne diseases, malaria infection had been a major scourge. Clearly, there are no primary health care centres around to seek treatments.
 "Water is a major problem. It has been very difficult for me, everyday, we buy 10 gallons of water amounting to N200 in addition to catering for the children. This is a big challenge and I just hope that something will be done to alleviate our suffering," Mr. Adegoke Dawodu lamented.
For Mallama Hauwa Salihu, it is the same story. "I spend so much on water. No money yet we need water to survive. There is no water. I normally buy five gallons of water for N100 everyday and when I want to wash clothes, I buy 10 gallons at N200. There are still other expenses to cover," she said.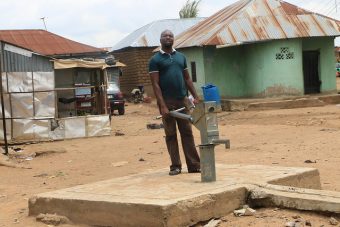 Another resident, Musa Choji says "the water challenge is very killing. I spend an average of N200 to N300 daily. I am a mechanic and currently there is lull in my business. Everybody is complaining of lack of money. How does one survive all this stress? My children go to school and if you don't buy borehole water, you expose your family to all kinds of diseases because the water from the stream is very dirty," he lamented.
A community leader, Lawal Inuwa appealed to the Federal Capital Development Authority (FCDA) to come to the aid of the residents, saying that at the moment, there is no hope of getting public water.
"Our community is faced with the challenge of water. We don't have public water. We depend on our stream while some residents depend on the private borehole but as you know, residents pay to fetch the water and things are very difficult. I hope that the Federal Capital Development Auhtority (FCDA) and the Water Ministry will pity us one day and come to our rescue because our people are really suffering, " he stated.
On her part, Mrs. Aisha Ibrahim also tasked the government and international donor agencies to assist in ensuring that communities in the FCT like Iddo Sarki have access to potable water in order to live a healthy life. She stressed that the current trend whereby the majority of Abuja residents depend on water vendors, well and streams for their water needs will only make them vulnerable to diseases.
Enquiries at the Federal Ministry of Water Resources did not provide a clear silver lining for the water-stressed Iddo Sarki community. According to Nigeria's Minister of Water Resources, Suleiman Adamu, Federal Government's constitutional role is to provide raw water to states including the Federal Capital Territory which Iddo Sarki falls under, with a responsibility to intervene by ensuring that it's river basin and dams get water to be reticulated to the states.  

"The laws of the land says the responsibility to provide potable water supply rest on the state and local government. What the Federal Government does is to intervene from time to time and what we do at times is to ensure the provision of water in the rural areas through water schemes. That is not to say it is our primary responsibility. Our responsibility is providing good policy," Adamu said.

Adamu stated that the Federal Government was willing to provide assistance to communities whenever necessary as it was aware of the high cost of water infrastructure.

He further noted that government has been partnering other bodies through the provision of funds, capacity building, good policy and multi lateral loans in order to improve on the capacities of the benefiting organisations as well as ensure adequate maintenance of facilities.
In spite of Nigeria's reported progress in the Water, Sanitation and Hygiene (WASH) sector, access to high-quality, reliable, and sustainable services remains low in most parts of the country including Iddo Sarki community which is within a hair's breath to the nation's capital city.

According to the 2017 WASH Poverty Diagnostic by the World Bank, Nigeria needs to invest three times its current investment to improve the decaying WASH sector and also to meet the Sustainable Development Goal six on water and sanitation by 2030.

The report offers an overview of poverty in Nigeria, considers the relationship between poverty and WASH, explores demographic patterns influencing access to WASH, and analyzes the relationship between WASH and child health outcomes.
Poor road network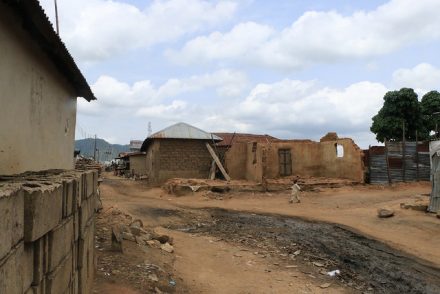 While rain is generally considered as a blessing, there are times that residents of Iddo Sarki wish the rains don't come down because of the nature of their roads which becomes nearly impassable when it rains.
"There was a time an old man was sick, we could not carry him to the hospital because rain fell from night till day break and before the flood on the road subsided to allow access to the road, the man died," a resident lamented.
The resident who doesn't want his name in print said the situation had made people always pray for their wives not to deliver during the rainy season. "Sometimes we see the rain as punishment even though its a free source of water for us because if someone is sick, we wont be able go out in the rains due to the nature of our road," he added.
The resident said the community's bad roads, which got worse during rainfall had cost many families their loved ones.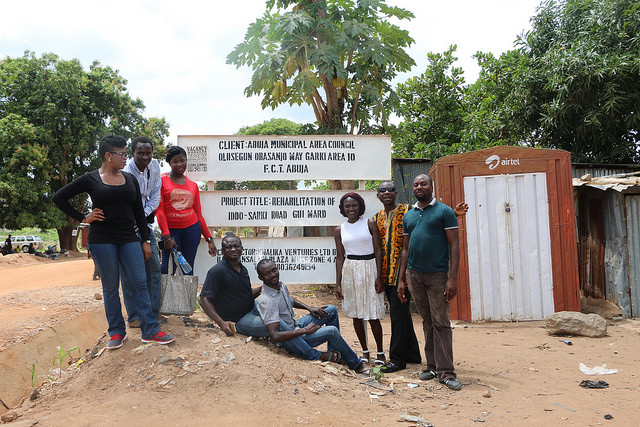 In response to several cries, the Abuja Municipal Area Council awarded a contract for rehabilitation of the main road leading to Iddo Sarki but the project has long been abandoned as the road was only graded with culverts erected on each side for less than 6km stretch.
The construction of the culverts is now seen as curse to the community as it aggravates the case of flooding in the community.
Poor energy access
Another challenge facing Iddo Sarki is poor energy access. For most hours of the day, the community is disconnected from power as challenges ranging from dysfunctional transformer to poor wiring contribute to putting the community into darkness.
Currently 95 million Nigerians (55%) do not have access to electricity and those that are connected suffer from extensive power outages. Although Nigeria has 12.5 GW of installed generation capacity, only 3500-5000 MW is typically available.
The annual consumption of electricity per capita is among the lowest in Africa, estimated at less than 150 kWh. The lack of a reliable and affordable supply of electricity impacts every facet of life in Iddo Sarki. Businesses routinely cite the cost of electricity as the principal drain on profitability and competitiveness. Schools and clinics often go without electricity or rely on costly diesel generators.
Statistics from the African Development Bank (AfDB) show that over 640 million Africans have no access to electricity. Africa is known for its darkness, not for its light. Also, over 700 million Africans have no access to clean cooking energy. The bank further reveals that Africa loses 600,000 people every year through indoor pollution as a result of relying on charcoal, kerosene and fuel wood.
With the abundance of solar energy sources in Iddo Sarki, the community, with the support of government and donor agencies, can host a pilot scheme capable of providing land for solar farms which can generate up to 300 megawatts of solar energy for Abuja alone.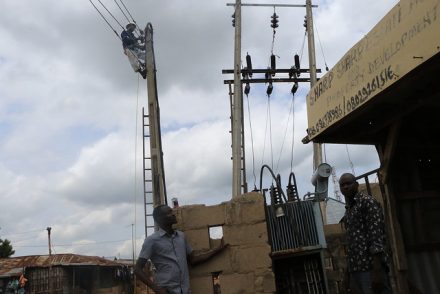 According to the Intergovernmental Panel on Climate Change (IPCC)'s summary report for policy makers in 2007, between 75 and 250 million people in Africa, including residents of Iddo Sarki, are projected to be exposed to increased water stress due to climate change by 2020. By the same year, in some countries, yields from rain-fed agriculture could be reduced by up to 50%.
Agricultural production, including access to food, in many African countries is projected to be severely compromised. This would further adversely affect food security and exacerbate malnutrition.
Apart from the issue of lack of potable drinking water, light and access roads, the Primary Healthcare Centre in the community is an eyesore. The dilapidated building being used by the community is in dire need of renovation, as most parts of the roof of the building is blown away by storm, with the remaining barely covering two rooms.
As if that is not bad enough, the healthcare centre does not have a single doctor or nurse attached to it to attend to the numerous patients that troop into the centre for medical attention. The best they could get is the services of a Community Health Worker (CHEW) and Community Health Officer.
"We do not really have a Ward in this healthcare centre, so we do not admit patients, as we are managing just three
rooms here. So, in the case of emergency or any serious case, we refer the patient to Gwagwalada Specialist Hospital. In most cases we look for a vehicle to carry the person to the hospital. We attend to more than 15 patients daily and what we do here mainly is Pre-Service Education (PSE)," the Community Health Officer, Mercy Agbo, disclosed.
The above and many more, depict the reality in today's Iddo Sarki, a community that finds itself ensconced within the precincts of affluence and abundant natural resources, yet lacks access to basic indices of modern life in the 21st century.
Herein lies the paradox of Iddo Sarki – who will come to the aid of this community?