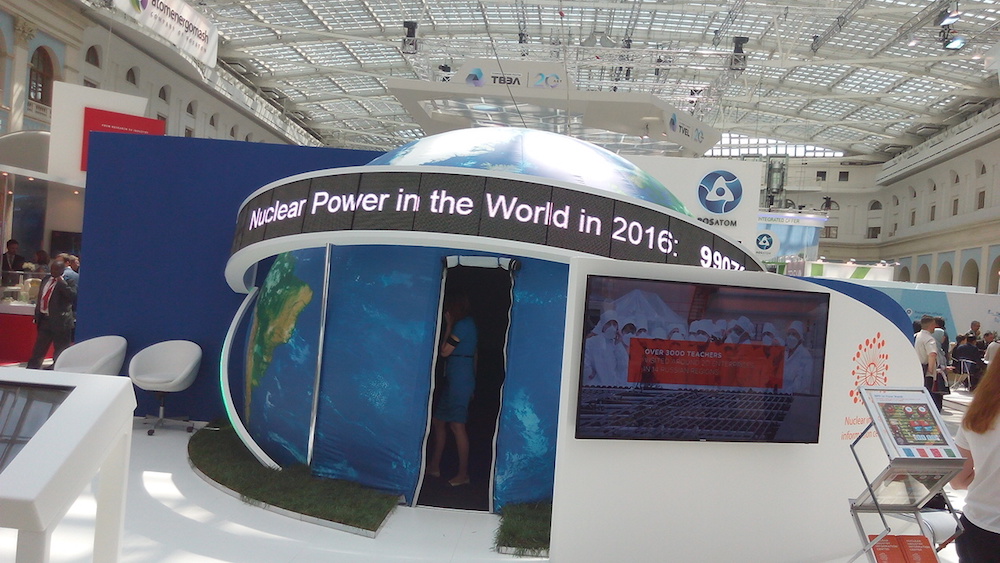 By Kofi Adu Domfeh,  Moscow, Russia
The global energy balance in the coming decades will be impacted by the implementation of the recent Paris Agreement on climate change as well as the gradual but steady development of the environmentally-friendly power generation industry.
One of the main subjects considered at a major international forum on nuclear power in Moscow, Russia was the role of nuclear power in the generation of a reliable, economically predictable and environmentally safe power source.
The ATOMEXPO 2016 Forum, which attracted participants from over 50 countries, focused on "Nuclear Power as a Basis for Zero Carbon Energy Balance" to create a foundation for the development of effective information exchanges between state, private and public organizations, and to help scale today's best green economic practices.
"In recent years the nuclear power industry has experienced fundamental changes; its influence on the international economy has increased and fundamentally new technologies and innovative solutions aimed at ensuring global environmental safety have been created," said Sergey Kirienko, General Director of Russia's State Atomic Energy Corporation (ROSATOM).
Uranium-fuelled nuclear power is considered a clean and efficient way of boiling water to make steam which drives turbine generators to produce electricity.
A proven advantage of nuclear power is its environmental friendliness – they do not emit harmful substances in the atmosphere during their operation and are totally free of greenhouse gas emission.
A properly managed nuclear facility does not directly contribute to atmospheric climate change – no carbon dioxide, sulfur dioxide, nitrogen oxides, mercury, or other toxic gases.
Uranium production, however, often evokes fear of exposure to high levels of radiation which could be deadly to human and animals.
A typical nuclear power plant generates 20 metric tons of radioactive waste annually, which must be isolated, transported and stored in remote locations for hundreds of years.
Safety and security in the development and management of nuclear technologies therefore becomes the first priority because it is the condition for the acceptance and development of nuclear energy.
"If safety cannot be guaranteed, then you should forget about nuclear energy," noted Mr. Kirienko, whist emphasizing ROSATOM's responsibility to guarantee the safety of its technologies.
"We need to develop an effective safety paradigm that increases genuine public wellbeing by reducing emissions from polluting sources, and ensures high nuclear safety standards are met," said Agneta Rising, General Director of World Nuclear Association.
Comparatively, coal-fired electric power plants emit massive amounts of greenhouse gases and other harmful pollutants to the atmosphere daily – creates over 300,000 tons of waste ash and sludge each year.
Amidst the challenges posed by climate change to the global ecosystem, interest in nuclear energy is growing because it is green with long term economic benefits.
"If you look at the clean energies, nuclear is even cleaner than the renewable – the most clean energy is hydro, followed by nuclear if you talk about the greenhouse emissions," says Professor Benjamin Nyarko, Director General of the Ghana Atomic Energy Commission (GAEC).
There are over 430 nuclear reactors operating in 30 countries providing about 11 percent of the world's electricity. Majority of these reactors in the USA but Russia is leading in support for infrastructure and technical aid.
The International Atomic Energy Agency (IAEA) is supporting countries to development legal and infrastructural frameworks to establish nuclear power plants.
"I believe that appropriate consideration should be given to nuclear power in talks of climate change mitigation," said IAEA Director General, Yukiya Amano.