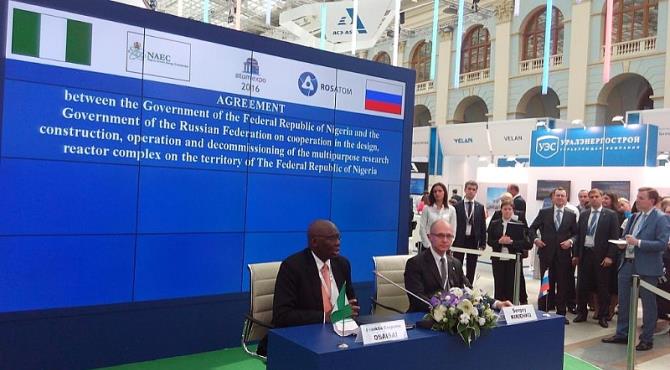 By Kofi Adu Domfeh in Moscow, Russia
The Russian Federation is rapidly expanding partnership with African countries on nuclear energy programmes, as demand for electricity grows in emerging economies.
Three African countries – Kenya, Nigeria and Zambia – are new to sign memorandum of understandings with Russia at the ATOMEXPO 2016 International Forum in Moscow, the largest meeting of world leaders and experts on nuclear power.
Nigeria's cooperation with Russia is in the construction of a centre for nuclear science and technology in advance nuclear research.
"Nigeria does have other energy resources but we're talking about a balanced and diversified energy basket and nuclear energy happens to be one that is considered. Again, I think it is environmentally friendly [and] will also lead to a better conservation of other resources," noted Franklin Osaisai, Director-General of Nigerian Atomic Energy Commission.
The research centre is to support Nigeria in the use of nuclear for purposes of agriculture and medicine development, explained Sergey Kirienko, General Director of Russia's State Atomic Energy Corporation (ROSATOM).
Kenya also seeks cooperation in the sphere of uses of atomic energy for peaceful purposes.
"Everybody today is going green, so signing the MOU today will give us an opportunity, a window for us to interact more to know about what advantages are there," said Hillary Ngondi Kyengo, Kenyan Ambassador in Russia.
Zambia is also signing an agreement in the use of nuclear energy for peaceful purposes. Last year, Ghana signed a similar agreement, as part of countries increasingly looking for solutions to their energy deficits.
Nuclear is seen as a cleaner energy source and nuclear technologies are useful in industry, medicine and agriculture.
The partnerships often involve joint development of atomic energy infrastructure, design and construction of power and research nuclear reactors, as well as the exploration and production of uranium deposits.