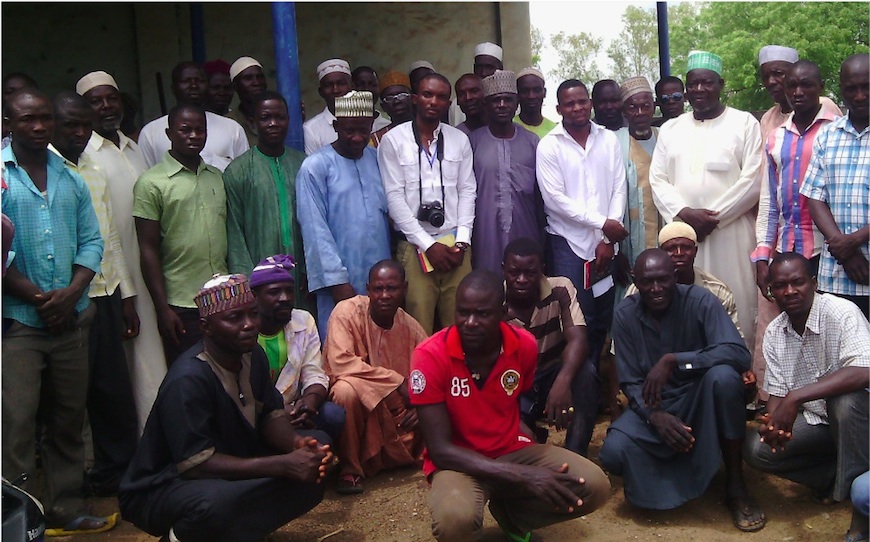 by Atâyi Babs 
Nigerian farmers in the north-eastern state of Taraba  are embroiled in what appears to be a destiny-changing battle with the Government of Nigeria and a US firm over the ownership and control of about 30,000 hectares of land.
The farmers accuse the government of grabbing lands that they have farmed for generations to make way for US firm, Dominion Farms to establish a 30,000 hectare rice plantation as part of the government and the G8's New Alliance for Food Security and Nutrition in Africa.
The Dominion Farms project in Taraba is part of the co-operation framework agreement of the G8's New Alliance for Food Security and Nutrition in Africa. Dominion Farms has signed a letter of intent between the Government of Nigeria and the G8 aid donor countries that involves a $40 million investment in "growing and processing rice on 30,000 hectares of land", a 3,000 hectares "nucleus farm owned by Dominion", a rice mill and the training of Nigerian youth at Dominion's Kenyan operations.
Alliance for land grabbing?
In spite of the New Alliance rhetoric on tackling food security, on the ground, the Dominion Farms investment has resulted in land grabbing, reducing the ability and resilience of local farmers to feed themselves and their communities. Ultimately, it exposes the problems of the G8's push for corporate-driven agriculture.
A visit to Gassol revealed that the lands being given to Dominion Farms are part of a public irrigation scheme that thousands of families depend on for their food needs and livelihoods. The local people were not consulted about the deal with Dominion Farms and, although the company has already started to occupy the lands, they are still completely in the dark about any plans for compensation or resettlement.
The Dominion Farms project site is located in the community of Gassol, within the Gassol local government area. The lands that the company has acquired are community lands that were ceded to the Upper Benue River Basin Development Authority (UBRBDA), an agency of the Federal Government of Nigeria, in 1978.
The 38,000 hectares managed by the UBRBDA, stretching along and adjacent to the bank of the Taraba River, are farmed by about 10,000 local farmers every year. Information gathered from the Taraba State Bureau for Land and Survey indicates that up to 45,000 people benefit from the utilisation of these lands. Moreover, there are at least 3,000 holders of land titles within the UBRBDA area.
 A welcomed development
According to Alhaji Musa Umar, a Senior Director in the Taraba state ministry of agriculture and natural resources who also doubles as the Technical Officer in-charge of the Dominion Farms project, "the Dominion Farms project is what the state has been yearning for years."
Mr. Umar maintained that the project will help Taraba State reduce rice importation and enable it to export to neighbouring countries. He cited the case of Dominion Farms' activities in Kenya, where Dominion Farms was able to produce rice for export using only 7,000 hectares.
Mr. Umar stated clearly that Dominion Farms has received a Certificate of Occupancy and has started operations in Gassol community. He said that the State has the potential to give out two million hectares but it only gave 30,000 hectares.
Mr. Umar also noted that all necessary arrangements have been made by the state to pay the host communities compensation. He says the State Bureau for Land and Survey has done the necessary evaluation and has come out with a survey plan and submitted a report to the state government for consideration. He said that the amount contained in the evaluation report is huge and the state has thus resolved to pay the compensation to the communities in instalments.
Mr. Umar also said that the state is making arrangements to construct major roads in Gassol as provided for in the MOU. Arrangements have been made for farmers to work with Dominion Farms so that they will be able to gather enough seeds to feed their families.
He said that his Ministry's main concern was that Dominion Farms would be able to carry out its work so as to boost rice and fish production to make Taraba a rice exporting state. He maintains that the local farmers will be part of the farming process as the Dominion Farms project proceeds.
We want our land back
The local farmers are united in their opposition to the Dominion Farms project. They want their lands back so that they can continue to produce food for their families and the people of Nigeria.
Families who have been farming and living for generations on the lands acquired by Dominion Farms are upset and disillusioned. They say the project will breach their right to adequate food and livelihoods, and their right to access the lands. They consider it a forced eviction without proper consultation and compensation.
Several farmers said that Dominion Farms is putting undue pressure on them to leave the plots of land that they have been farming. Although Dominion Farms has not commenced significant production on the lands it was allotted, the company has filled in ponds and water canals that local people depend on for fishing and has stationed security agents in the area to prevent farmers from accessing their lands.
People have also been forced to stop grazing their goats and cows on the lands occupied by Dominion Farms. This is having a major impact on peoples' livelihoods.
The local population is also concerned that Dominion Farms is not providing the service and technical support to farmers that was formerly provided by UBRBDA and they worry that the facilities will erode if they are not properly maintained. They have complained to the authorities, but, as of yet, no action has been taken by either local, state or federal authorities.
According to Mallam Danladi K Jallo, "We were happy when we heard of the coming of the Dominion Farms not knowing it was for the selfish interest of some few members of the State, Federal Government and the foreigner in charge of the Dominion Farms. Our land is very rich and good. We produce a lot of different crops here like rice, beans, Guinea corn, cassava, soya beans, millet, yam as well as fish farming and the rearing of animals like goats, sheep and cattle." 
But since Dominion Farms people arrived with their machine and some of their working equipment, "we were asked to stop our farm work and even leave our lands as the land is completely given to the Dominion Farms project. Some of the farmers owned private tractors which they used for their farm work, apart from the Upper River Basic assets, that are still in place" Jallo added.
On his own part, Alhaji Mairiga Musa declared that "we are speaking in one voice against Dominion Farms because we are opposing their activities. We have fish ponds that we inherited from our forefathers on that land, but Dominion Farm has said that they will sand fill all of them to give them more space to plant their crops. When they commenced work on the land they came with security personnel whom Dominion Farms mandated to evict all farmers who were working on their lands."
"We are ready for peaceful demonstrations, dialogue and even to cry out to the whole world just to hear our voices, the voices of poor innocent farmers. But if the above-mentioned strategies fail, we will mobilise against Dominion Farms for our land, the land of our forefathers, with our families and remain there until they answer us. We are agitating for taking legal action against Dominion Farms and the government" says Mallam Ismaila Gebi..
From the angle of a female farmer, Rebecca Sule (Mama Tina) opined that "we do not subscribe to a foreign agricultural and farming system that we do not have knowledge. They came here to farm. The only story we hear is that our land is taken away and will be given out. We were not involved at any level. For the sake of the future and our children, we are requesting governmental authorities to ask Dominion Farms to stay away from our land"