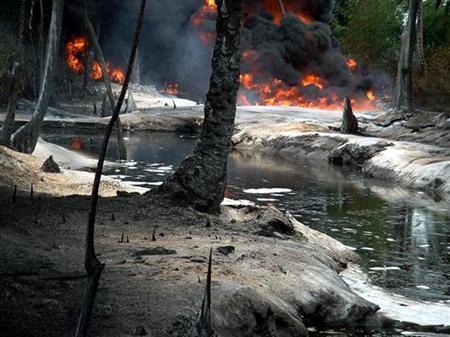 By Atayi Babs
Leaders of the oil-rich Ibeno community in Akwa Ibom state, South-South region of Nigeria have restated their demands for $100 million from Mobil Producing Nigeria (MPN) Unlimited as compensation for the oil giant's continued and flagrant degradation of the community's environment.
The paramount ruler of Ibeno community, Chief Effiong Archianga, said the "mandatory fee of $100 million annually is desirable.'' Chief Archianga said that the fee was necessary, as Mobil finds it difficult to prevent oil spill during exploration and exploitation.
Our lives are endangered
During exploration and exploitation, oil will not fail to spill. Mobil should be compelled by relevant stakeholders to pay mandatory fees to Ibeno annually for environmental hazard,'' he said. The paramount ruler said that oil spillage had polluted rivers in Ibeno , while the lives of people in Ibeno and its environs were now endangered.
We are inhaling gas; we are drinking oil spill which is not good for our health; oil spillage had destroyed aquatic lives. Mobil should pay us for environmental hazard, so that even when the oil spills to our rooms, we will not talk.
"We do not even have aquatic live preservation in Ibeno, the water we drink is contaminated, and now people's lives are at risk,'' he said. Archianga called on the government and relevant stakeholders to urgently address the effects of oil spill in core oil communities in the country.
Delayed response to oil spill
Almost three months after oil spills from a field in Akwa Ibom operated by  Mobil, the company is yet to complete a clean-up of the area of the spill thus endangering the lives of residents.
The suspended clean-up of a November 9, 2012 oil spill, which reportedly discharged some 200 barrels of crude, is yet to resume after the agreed resumption date of January 7, 2013. Also, the clean-up of a December 19, 2012, spill incident at Mobil's oil field off Ibeno coastline is yet to commence.
Ukott Esenem, a community leader in Ibeno, said on Monday that the abandoned clean-up exercise is posing a "serious" threat to public safety. "Everyone knows that crude oil is toxic to aquatic life that our fishermen depend on, and leaving the oil un-cleaned for about one month is very hazardous, and the tide has been spreading the oil along the coastline. And the same oil firm claims to care about health, safety and environmental component of their operations; it is hypocritical and nothing has happened since one month now."
"The oil has been leaking from the pipelines because they are trying to repair it and they are using toxic chemical dispersants to dissolve and sink the oil to the sea bed," Mr. Esenem said.
Weak regulatory system
Nigeria's National Oil Spills Detection and Response Agency, NOSDRA, had directed the company to clean up the coastline within its oil fields affected by the spill. Although, the firm confirmed the December 19 spill incident in a statement and pledged to clean up the site, checks at the Atlantic coastline in Ibeno on Monday showed that the exercise was yet to commence.
Mr. Esinem urged NOSDRA to sanction Mobil with appropriate penalties to compel the oil firm to be alive to its responsibilities in operating in an environmentally sustainable manner.
The statement made available in Eket was signed by Mobil's Communications Manager, Nigel Cookey-Gam. Mr. Cookey-Gam had said, "Mobil Producing Nigeria Unlimited (MPN), operator of the Nigerian National Petroleum Corporation/MPN Joint Venture, confirms that on the 19th of Dec. 2014, community representatives notified the company of slight oiling on short sections of the shoreline of Ibeno, Akwa Ibom. MPN immediately deployed a team to inspect the site and samples of the oiling were taken for analysis to help determine the source." "Sections of shoreline with any oiling will be cleaned immediately," he added.
Meanwhile, public affairs officials in Mobil declined comments on the $100 million compensation demand by the community as well as the delays in the clean up as they neither responded to e-mail enquiries nor took mobile phone calls.
Oil firms in Nigeria have a long history of environmental pollution and degradation. Perhaps edged on by absence of commensurate sanctions and governmental inertia, oil and gas firms in Nigeria including Mobil and Shell spill crude oil on lands and waters, flare gas and generally make life uninhabitable in areas where they operate.