By ELFREDAH KEVIN-ALERECHI
On August 26, 2019, riding on a motorbike around Otua community, in Ogba/Egbema/Ndoni Local Government Area (ONELGA), of Rivers State, Nigeria, I saw different crops uprooted. I turned to my guide  and asked why there are premature cassava uprooted almost in every farm, and he replied, "the fear of flood".
For many, September is always a month of happiness as many celebrate their birth, while for some, it happens to be their first day in school, and, some can not wait to enter a new class with new school uniforms, bags, scandals, and lunch box.
Others, it is the last quarter of the year, the EMBER month of harvest, food in abundance, traveling and relaxation, visitation and friendships.
The reverse is the case for many rural dwellers in Rivers State, in the Niger Delta region of Nigeria, this is because every September has been marked for flooding.
Rivers State, which is one of the south-south states of Nigeria, according to census data released in 2006,  has a population of 5,198,716, making it the sixth-most populous state in the country.
Impact of Flooding
The impact of flooding can never be overemphasized.
Whenever there is flooding, lives and properties worth millions of Naira are destroyed, children mostly stay at home as school premises are not exempted from the negative impact of flooding, as flood submerges the classrooms
Flood as a natural disaster, washes away soil nutrients, destruction of biodiversity, domestics lives, as well as displacement of human beings and colossal damage of human infrastructure spanning from buildings, home appliances such as A/C, fan, television, radio, foams, clothing, etc.
Flood usually leads to extra-budgetary expenditure by state and federal governments as emergency activities like distributing relief materials to the affected people become necessary.
Equally necessary is the supervision and equitable distribution of donated relief materials from philanthropic individuals, Multinationals, Non-governmental organizations, religious body, and many others.
How Climate Change affects Livelihoods
Otua is a rural community endowed with crude oil but its houses are all built with mud and are within distance from each other, surrounded with bushes.
 At about 11:20am in Okukaeze compound of Otua community in Ogba/Egbema/Ndoni LGA of Rivers State, I met this old widow of about 76 years, inside her palm oil mill sitting with her 3 boys, one at her left, another sieving palm kernel from the chaff, while the other eating, 4ft away
Mama Whose husband died 12years ago has been doing the Palm Oil Mill over 32 years ago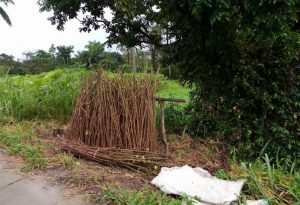 with her children, living in the small zinc house.
"I have 7 children, some are in school, while some did not finish school, because there was no money, she said with pain on her face.
In her words; "My business is what I use to make money and feed my children for 12years now after the death of my husband, she wept, and stood up, walked down to her living hut aboard. Her 3 grown-up boys still working in the palm mill.
In her hut, she pointed 6ft above the ground level, as the least of the water level whenever there is a flood.
She said, "my fear has always been flooding. I am always scared of September, I heard there will be a massive flood this year, I am just thinking of what to do."
"I am preparing myself to leave, and my business will be abandoned just like that till 3months after September, and this is the only means I use in feeding my children" she said.
Seeing her expression, one would be speechless to ask more questions.
Last year, flood spoilt my properties, I always take all my things in my house above the water, except for my big pot used for cooking the palm fruits", she added.
"I want government intervention before the flood comes fully. If only the government will give me small money to do my business, I will be happy," she appealed to the Nigerian Government.
"Last year flood broke my fence, spoilt my crops, rendered my family homeless and subjected us to severe hunger, begging", another flood victim from Okwuzi community, laments.
Matthew Onuegbu, fair in completion, and skinny, a father of 3 girls, lamented that last year's flood broke my fence, my children couldn't go to school as their schools we're submerged by flood
He walked behind his compound, pointed at his brother's uncompleted building, saying, "this building is newly built, immediately my brother added zinc, not quite long, the flood came filled the building, spoilt some part of the zinc, leaving some part of the building cracked and caved in.
"Since last year till date, we have not received any intervention from the government. No money or relief materials have been given to us. What they do, is to ask us to fill the form, which we did, until now, nothing has been given to us", Matthew said.
Matthew frowned, saying "my certificates were destroyed by the flood. I was not at home when the flood came, so my goods and properties were all destroyed, which made it impossible for me to get back all the lost properties".
We suffer whenever there is a flood, no good food, no place to buy medicine, no market to buy and sell, no land/farm to cultivate crops. This is according to Mrs. Onuegbu.
The farmer lamented, pointing at her farm opposite her house, "since last year our crops were destroyed by flood, we have not been able to recover all we lost. Life has not been easy for me and my family. We are now starting life afresh", she said.
" Look, the flood has started coming, this is how it started, many of the villagers do not know the sign", said my guide who happens to be an environmentalist.
However, the National Emergency Management Agency, (NEMA), Nigeria, says it is ready to tackle the 2019 flood.
The Zonal Coordinator of South-South Zone, Port Harcourt, Ibarakumo Walson disclosed this in an exclusive interview to our reporter in Port Harcourt, the capital city of Rivers State.
In his words" NEMA is prepared for the forthcoming flood. We are going from community to community sensitizing people. We are also mapping the higher grounds, we are stockpiling relief materials in our headquarters", he said.
WALSON stated that last year flood victims in Rivers State were given relief materials.
"Last year we have given relief materials to flood victims in Rivers State. We captured the victims with the help of the Local Government. We gave materials to only those that were captured", he said.
According to the Nigeria Flood Briefing, as at September 9, 2018, 1,921,026 people were affected, 561,442 were internally displaced, and 351,236 in need of immediate humanitarian assistance across 12 states (Anambra, Bayelsa, Benue, Delta, Edo, Kebbi, Kogi, Kwara, Niger, Rivers, Adamawa and Taraba).
Effect of flood on human health
Oxford online dictionary defines Health as being free from illness, and injury.
Flood generally affects human health as flood, victims are injured while trying to escape the flood, and it becomes difficult to have access to the nearby hospitals or clinics, some die in the process.
As a result of the flooded environment, some persons suffer from cholera, malaria, and many other water-born diseases, as well as sexual and reproductive health challenges.
The World Health Organization says sexual and reproductive health and rights encompass efforts to eliminate preventable maternal and neonatal mortality and morbidity, to ensure quality sexual and reproductive health services, including contraceptive services, and to address sexually transmitted infections (STI) and cervical cancer, violence against women and girls, and sexual and reproductive health needs of adolescents.
The Sexual Reproductive Health Right is the ability to freely have access to health care services.
Flood deprives women of this right, says Professor Rosemary Ogu.
Prof Ogu, a Gynaecologist at the University of Port Harcourt Teaching Hospital, Nigeria, noted that " whenever the environment is flooded, pregnant women do not have access to antenatal care within their environment as hospitals and health care centers would also be flooded, children are deprived of the regular routine immunizations.
This she said, affects women's right frame of mind, "families in that community requiring healthcare services would be deprived, health workers will also be affected."
"Sexual Reproductive health of families will be low because they won't be in the right frame of mind to have sex as a result of the wet environment."
Causes of Flood
b-air.com, California – USA, in a publication on February 27, 2018, identified 8 causes of flooding, which includes, heavy rains, overflowing of rivers, broken dams, urban drainage basins, storms surges, and tsunamis.
Another cause of flood identified also, are fast runoff into the rivers, lakes and another reservoir, which also the case when rivers and other channels that features steep sides. It is having a similar case of lack of vegetation, and finally, other reservoirs snow can lead to a spring of flood.
Disaster Warning
In July 2019 in a sensitization workshop on 2019 flood prediction, prevention, and mitigation in hydrological area 1, comprising Kebbi, Sokoto, Zamfara, Katsina and Niger states, the Nigeria Hydrological Services Agency (NIHSA) discloses that high-risk flood might occur between July and September 2019.
The Director-General of the Agency, Engr. Clement O. Nze, however, sought for the urgent relocation of residents of Kebbi, Sokoto, Zamfara, Katsina and Niger states who are living along river banks to safer places ahead of envisaged flooding.
On August 7, 2019, in a press briefing in Abuja, the Nigeria Hydrological Services Agency(NIHSA) issued an alert warning  Nigerians of imminent increased flooding, in the month of September 2019.
Saving the people and environment In flooding
Globally, flooding has been described as a natural disaster, therefore we should be conscious of our environment, said Professor Jason Osai, the president, ONELGA People's Assembly.
"There is a certain thing we need to be conscious of. If gutters are built for us, there should not be litter in the gutter. Our waterways should be cleaned. Our building construction should be elevated, we should be conscious of our building", Prof. Osai stresses.
The Professor of Political Science at the Rivers State University of Science and Technology, recommended that  Government should come out with a policy that houses should be elevated when building, referring to Ogba/Egbema/Ndoni Local Government Area (ONELGA) of River State, disclosing that every part of ONELGA is punctuated with water.
"Federal and State governments, including the corporate individuals, and multinationals that exploit/explore human and natural resources operating in those flood-prone communities, should educate the people on the best practices visa vice the realities of flood, by way of relief effort when flood comes, and in that aspect of relief efforts, we expect that Federal Government should be up and doing, supervise relief material to avoid any forms of diversion from both the multinationals and government agencies. People are poor, they are uneducated, therefore they should be properly guided on how to overcome natural disaster like a flood. …. Osai stated.