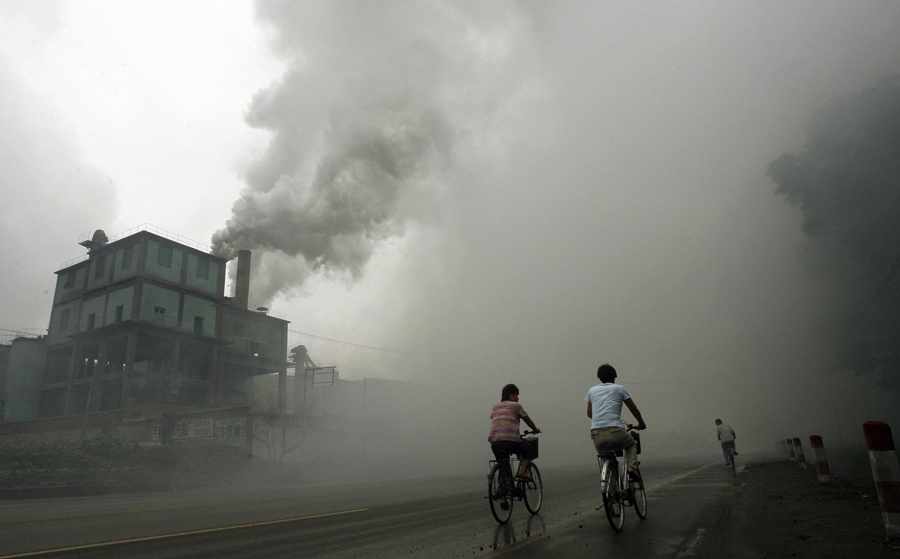 By Greg Odogwu
In October 12, 2005, Lagos residents woke up to witness clouds of choking fumes that enveloped the ever-busy former capital for more than six hours. There was panic among residents because there was no official and tangible scientific explanation offered for the incident. But, sure enough, environmentalists said it was sign of things to come: Smog is a direct consequence of unsustainable urbanization and inefficient lifestyle.
However, one could be forgiven to opine that the 2005 Lagos smog was a blessing in disguise; it spurred decision-makers into giving urgent and concerted attention to environmental issues, especially as they pertain to air quality. The Lagos State Metropolitan Transport Authority (LAMATA), for instance, became a proactive agency that ensured Lagos squared up for the challenges of its mega-city status.
On a national level, there has been South-South collaboration between Nigeria and other developing countries that face similar air quality challenges, especially as they emanate from urban transportation operations. These are countries that have evolved concise data and strategies with which they are winning the war against air pollution in their major cities.
Last August, the Second Stakeholders Workshop on Air Quality and Transportation Challenges in Nigeria and Agenda for Clean Air Action Plan took place in Abuja. The workshop was organized by the Federal Ministry of Environment in collaboration with Centre for Science and Environment, India, and has as major objective to involve the concerned stakeholder groups to discuss issues pertaining to air quality and transportation in cities of Nigeria, identify the major problem areas and proffer strategies and solutions.
The workshop is a follow-up to an earlier one held in November 3, 2015, where it was agreed that Nigeria strictly enforce regulatory framework on air quality and management, aimed at ensuring the protection of human health and environment in Nigeria. Also, that the country synergize, develop and implement the National Clean Air Action Plan and management strategies for air quality issues in Nigeria; and further research on ways of improving air quality.
Instructively, the collaboration with CSE of India is strategic. Nigeria shares a lot of similarities with the Asian country. Air pollution in India is a serious issue with the major sources being fuelwood and biomass burning, fuel adulteration, vehicle emission and traffic congestion. However, with economic development and regulatory reforms, India has made progress in improving its air quality. The Air (Prevention and Control of Pollution) Act of India was passed in 1981 to regulate air pollution and there have been some measurable improvements. Its Central Pollution Control Board now routinely monitors air pollutants namely sulphur dioxide (SO2), oxides of nitrogen (NOx), suspended particulate matter (SPM) and respirable particulate matter (PM10).
Nigeria, too, is a country with fast-growing population, with most of it moving towards the major cities. Emissions from transportation pose a great environmental and health related challenges; so for instance, Lagos' BRT is not only solving the problem of traffic congestion; it is also curbing carbon emissions and safeguarding Lagosians' health.
Nevertheless, in as much as LAMATA has put up such and other strategies to combat urban transport challenges, there is still a lot to be done, especially at the national level. Our urban roads have car-centric designs, which discourage non-motorised transport like cycling and walking. We also need to imbibe a transit-oriented development across board.
At the Abuja workshop, Nigeria's Minister of Environment, Amina Mohammed, enumerated some of the challenges affecting the full implementation of a sustainable air quality management plan for the country as: Non-availability of quality air monitoring data on current and future air pollutant emissions; Inability of different stakeholders to effectively integrate Air Quality Management into national planning programs; Low level of public awareness on the causes of air pollution and its resulting impacts on climate change, human health, and the economy; Inadequate funding of air quality research and projects that demonstrate feasible options for AQM; Inadequate infrastructure for data collection, sharing and reporting; and Inadequate human capacity development in various areas of AQM (science, technology, economics and policy).
The import of the workshop, therefore, is in the fact that it was able to host a cross section of critical stakeholders from the relevant national institutions, whose recommendations would be formidable enough to crystallize into the urgently needed Clean Air Action Plan for Nigeria.
The session on emissions standards and air quality management was co-hosted by the Standards Organization of Nigeria, the National Environmental Standards and Regulations Enforcement Agency, the National Automotive Design and Development Council, the Nigeria National Petroleum Corporation, and the Centre for Science and Environment, India.
The session on transportation management and challenges was co-hosted by the Federal Ministry of Transport, the Federal Capital Territory Authority on Urban and Regional Planning, the Lagos Metropolitan Area Transport Authority, the Office of the Inspector General of Police, the Federal Road Safety Commission, and the Computerized Vehicles Inspection Centre, Abuja.
Then, the open session on how to frame clean air action plan for cities of Nigeria involved the National Planning Commission, and featured a select array of critical stakeholders: the private sector, the civil society, and the media.
Notably, the NNPC revealed that Nigeria's refineries, which currently produce petroleum products of high sulphur content, are presently going through revamping and turnaround in order to be upgraded to produce the recommended low sulphur content of 50ppm (parts per million). Mr Akpabio Essien, who represented the Group Managing Director of NNPC, said that work going on in Warri and Port Harcourt refineries shall be completed in 48 months time.
The other strategy that Nigeria has adopted to shift the paradigm is Compressed Natural Gas. NIPCO, a government company, is reportedly mainstreaming it in Warri, and will soon scale up to Abuja and Port Harcourt. CNG, which is methane stored at high pressure, can be used in place of petrol, diesel fuel and propane/LPG. CNG combustion produces fewer undesirable gases than the fuels we are used to, and is also safer in the event of a spill. It is made by compressing natural gas, which Nigeria has in abundance.
In any case, I am of the view that the government needs to partner with the media at this juncture.
Most of the strategies to be used to engender clean air will sound like Greek to the masses unless they are enlightened. Moreover, the people need to be carried along to avoid the risk of misunderstanding government's eco-efforts as victimization of one particular group of Nigerians or the other.
For instance, through the FG's National Environmental (Control of Vehicular Emissions from Petrol and Diesel Engines) Regulations, 2011 there was  ban on importation of two–stroke engines into the country (NESREA repatriated containers of two-stroke outboard engines and generators), and adoption of four-stroke engines as alternative (which is fuel-efficient, less polluting and more durable). There was also prohibition of vehicles without approved emission reduction technology, with sanctions and penalties on violators.
Government also approved the National Vehicular Emission Control Programme to be run on PPP arrangement to establish vehicle emission testing centres nationwide, annual testing of vehicles for toxic emissions and data collation. This programme is already ongoing in Abuja.
Another important regulation is the National Environmental (Air Quality Control) Regulations 2014 under which NESREA acquired air quality monitoring equipment (both mobile stations and hand-held tools) to monitor and generate air quality data and initiate industrial air quality monitoring and enforcement. There are also plans to commence emission testing of generator sets under PPP arrangement.